Chinese Language Course in Gojra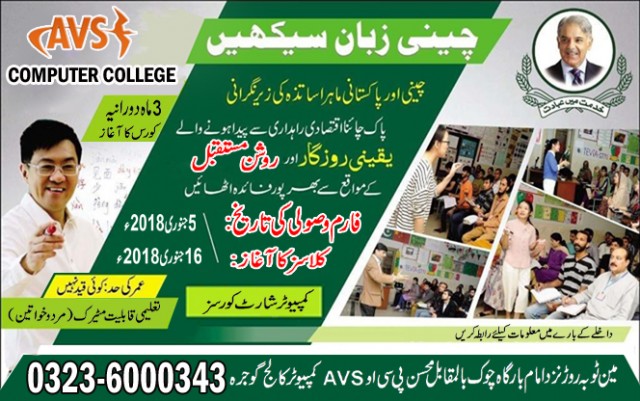 New Evening Session of Chinese Language is Recently Started. Get Registered now before it's too late.
#Learn #Chinese #Language from ICA Certified #professional and #Native Chinese #Teacher
~"AVS Computer College Gojra"~
Explore the opportunities generated by #CPEC Numerous Language based Scholarship programs and Job. Opportunities:- 1) 15 days Visit China 2) 6 months #Scholarship 3) 1 year Scholarship
#HSK1 #HSK2 and #HSK3 #HSKK All levels starting at the same time. Send us your Full Name, Contact # and Email ID in order to get registered for #Demo #Class
For more information:-
Visit our Campus:- Main Toba Road, Near Imam Bargah Chok bil mukabil Mohsin PCO, Gojra.
---
Location
Country: Pakistan
State: Punjab
City: Faisalabad
Address: Main Toba Road, Near Imam Bargah Chok bil mukabil Mohsin PCO, Gojra
Postal Code: not available
Coordinates: 31.456383,73.0641087