Best Rated Air Cooled Servo stabilizers Manufacturing Companies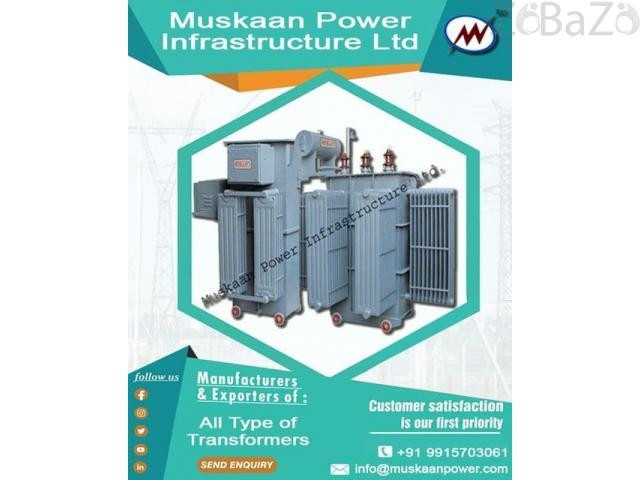 Are you finding the details of companies that are manufacturing & supplying Air Cooled Servo stabilizers? Muskaan Power Infrastructure Ltd. is the world-renowned and one of the largest Air Cooled Servo Voltage Stabilizers manufacturers, and suppliers in Ludhiana, Punjab India.
Since 2003 in the Electrical & power equipment industry, Muskaan Power Infrastructure Ltd. is an ISO 9001-2000 BVQI Certified Company is recognized as the best manufacturer company of servo controlled voltage stabilizers & transformers. Our Firm specializes in manufacturing and supplying Furnace Transformers, Power Transformers, Distribution Transformers, Servo Controlled Voltage Stabilizers, Automatic Voltage Controllers, Dry Type Transformers, etc.
"Being Air-cooled stabilizers, these function as automatic line voltage correctors that use a synchronous motor that provides for optimum functional usage."
We provide highly functional Voltage Stabilizers that are designed using the latest technologies & quality raw material. Our Products are tested under the supervision of quality auditors to ensure the quality of products. Due to our Quality services, MUSKAAN POWER is known as the leading & well-established name in Electrical Industry.
Free to call us at 9915703061 for any query! We accept Bulk deals!
Reach Us:
Sua Road, Industrial Area - C, Dhandari Kalan, 141014 Ludhiana, Punjab, India
Mail us your Requirements: info@muskaanpower.com
Get more info at our official website: https://muskaanpower.com/three-phase-air-cooled-servo-stabilizers.html
---
Location
Country: India
State: Punjab
City: Ludhiana
Address: Sua Road, Industrial Area - C, Dhandari Kalan,Ludhiana-141014, Punjab, India.
Postal Code: not available
Coordinates: 30.8603928,75.9096849
Contact
khushbu bizzrise
9915703061
---